LUXURY HOME RELIST
OUR CHALLENGE
Take a vacant investment property that has been on the market for 80 days and make it photo and show ready.
We really had our work cut out for us, we had to change up the showing experience making this listing fresh and exciting when it hit the market again.
The challenge of an empty property is that we needed to make it feel like a lived-in home. What is cold, needs to be warmed, accessorized and filled up!
We needed the home to speak to the buyers, so they can envision themselves living in the space.
Our team developed a plan and executed it with our stager Lynne from Design Fase.
Not all rooms are equal when it comes to staging, efforts need to be focused to create the most impact, the areas we chose are:
Front Room Study
Main floor Dining Room/Great Room/Sunroom
Primary Bedroom
FRONT ROOM STUDY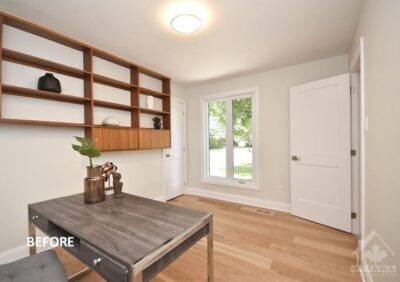 The front room study had lovely built in shelves just needing the perfect accentuation. Adding a wood credenza, a desk and some artwork really warmed the space and brought it altogether. This really filled the space up to show what can be done.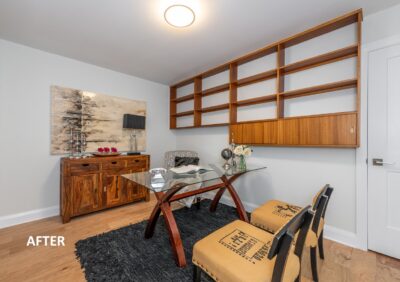 MAIN FLOOR DINING ROOM/GREAT ROOM/SUNROOM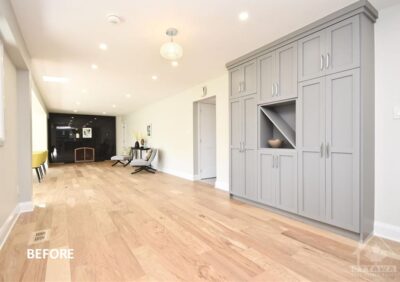 DINING ROOM
We were able to easily accentuate this stunning space that spans a large area. We divided it into three useful, and defined spaces. By filling this area with separate spaces it further filled the room.
Just past the kitchen began the dining room, a beautiful table for six with upholstered chairs adding a pop of colour.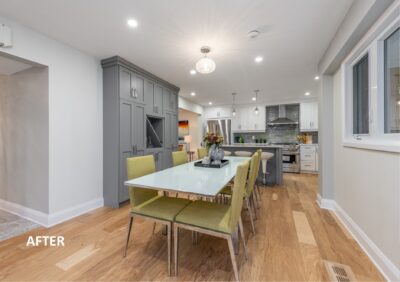 GREAT ROOM
The Great Room was centered around the fireplace, a generous space for family to gather. We brought in large pieces of art, used a big area rug, fuzzy throws and textured pillows, the space was instantly warmed with lots of cozy touches, the leather couches and chairs would have looked too cold without them.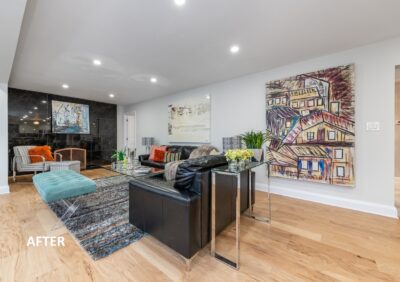 SUNROOM
The sunroom became a comfy nook for someone to curl up and read, or for a game of Monopoly!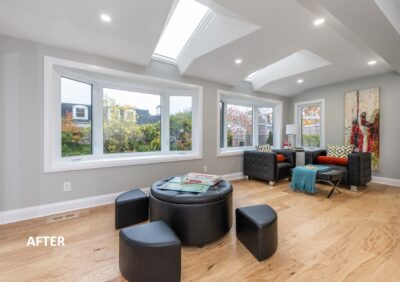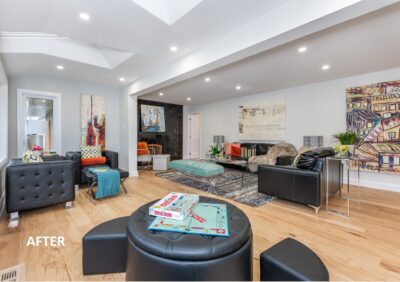 PRIMARY BEDROOM
Adding big, bold pieces really added to this room. The addition of a seating nook, large pieces of artwork and mirrors on the walls really made the space feel snug, which is exactly what we want potential buyers to feel.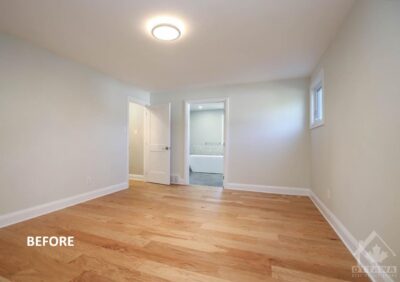 All of these touches also demonstrate to buyers how they can style the home. It is so important that they can picture themselves in the home. We worked with the neutral colour palette of the room and added touches of colour to compliment.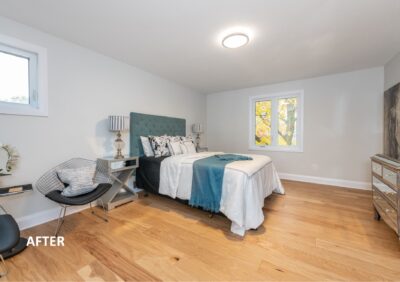 FINER DETAILS
Even though main areas are the ones to focus on, we also ensured that the finer details were not overlooked.
Front Entry Way, added a table with lamp, an orchid and some wall décor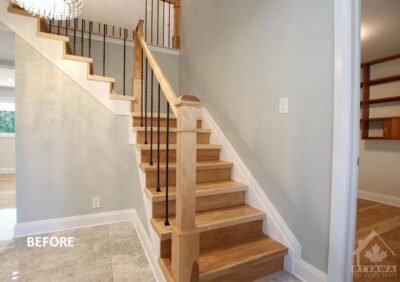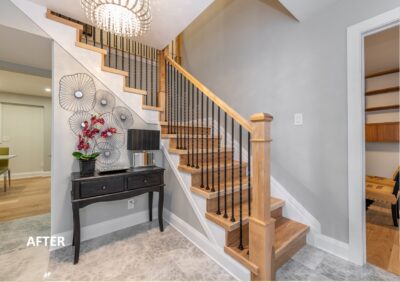 Ensuite bath added a tray to the bath, complete with tea mug and book. Some towels, a piece of artwork and a vase of flowers complete the touches in this room.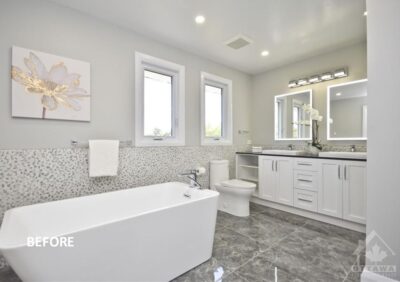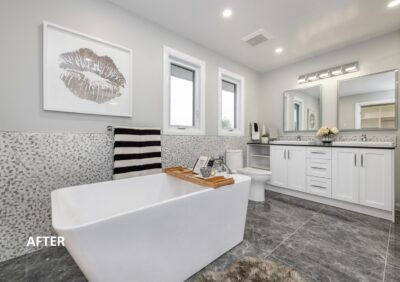 The final outcome? Sold within 4 days on market! Thoughtful staging works time and time again.