MAKE ANY LIVING SPACE FEEL LARGER
Our home staging team is so effective because we emphasize our client's homes strengths and minimize its weaknesses. This can be done in many simple ways. Here are three great tips on how our team makes any living space feel larger.
1. Reduce Wall Paint Colours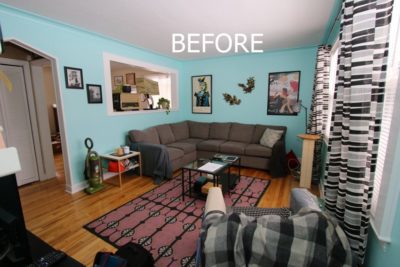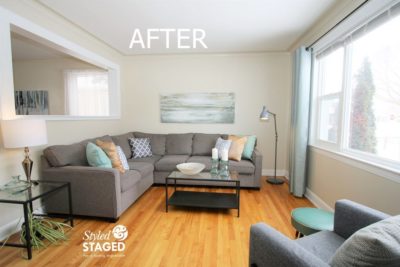 Painting the living room the same colour as the dining room was a dramatic difference and it really made the room look larger.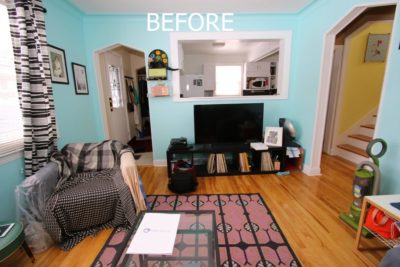 Not only did we ask the homeowners to paint the living room, but we also asked them to paint the bright yellow staircase wall since you saw it from every room in the house.  When rooms are chopped up with different paint colours, it stops the flow from one room to the other.  We chose to continue with their dining room colour since it was the most neutral for buyers.  We had a tight timeline, so we needed to choose our priorities wisely.
2. Reduce Bold Patterns and Small Artwork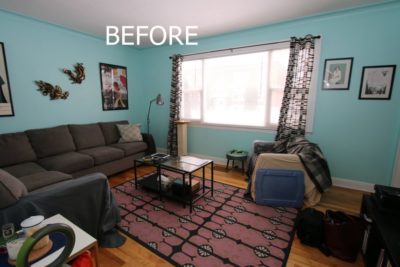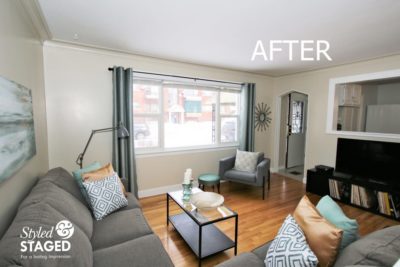 We replaced the bold drapes with softer more subdued ones that tied in with our staging artwork.  Removing the patterned rug also made the space feel larger.  Normally we add large solid area rugs but this house didn't need it. Although some of the cushions have a pattern, they are not overpowering.
Also, we used one large piece of artwork above the sofa in soft colours and then pulled those colours for the accessories.  Everything is light and airy. Glass is wonderful for that.
3. Simplify Rooms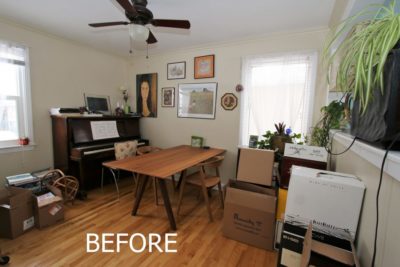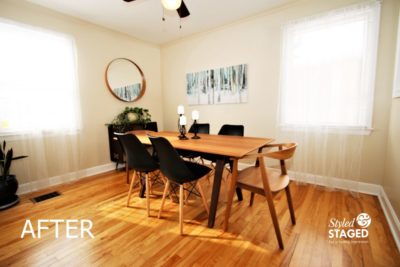 This family was moving across Canada and they weren't going to take their piano with them so we strongly urged them to remove it now.  We knew we were asking a lot but we also knew that they couldn't leave it in the house when they moved (unless the off chance that the buyers wanted to buy it). This is the time to sell or donate anything that you are not taking with you if it doesn't enhance your current space.
Our team posted the free piano in a couple of locations and thanks to Marketplace, the piano was literally removed minutes before our team staged the house. We were excited since it gave us an actual dining room to decorate.  Now the room liked like a proper dining room with the new furniture configuration.
We would have loved to hang a light fixture but since we weren't sure until the very last minute where the table was going to be based on the piano staying or going, it wasn't possible.
They only had two dining chairs and we knew they didn't want to buy any more furniture before they moved.  We found these great black chairs at Costco that really suited this table so we bought them, assembled them and brought them to the home.
We want to keep our accessories/artwork simple and in the same colour palette so buyers look at the room instead of the 'stuff'.  We love how the black chairs anchor the room and also tie in with the black iron base of their living room glass coffee table. These chairs were also a great addition to the our team's staging inventory.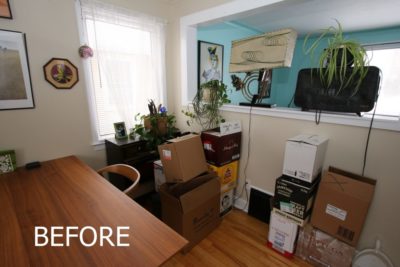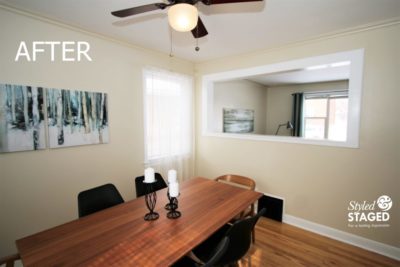 Never block or put clutter on half-walls.  Buyers are looking for an open-concept living.  Even though this isn't a true open-concept,  you can clearly see from one room to the other.
Our staging team and our clients worked extremely hard. They did an incredible job in a very short timeline. No one ever said that staging a house or living in a staged house is easy, but staging definitely works!
THE RESULTS
| | | |
| --- | --- | --- |
| Views on Realtor.ca | Facebook Reach | Direct Emails to Buyers |
| 432 | 1,181 | 532 |
| | | |
| Showings | Asking Price vs Sale Price | Days on Market |
| 18 | 104.9% | 5 |