I love my current home. My wife and I love our neighbourhood and the neighbours on our street. We always thought we would be here long term. How is it then, that in a global pandemic, we impulsively purchased a new home. To be quite honest I am still not sure. It happened so fast 🙂  We were not even looking. My wife literally looked at 2 houses and we put offers on both of them. What really got us was the idea of having a pool, privacy, and main floor office. Not sure we would be moving if it wasn't for Covid-19. Also, nice to have something positive to look forward amongst so much anxiety and uncertainty.  Are other people having similar feelings? I have got calls from clients that said Covid-19 has them revisiting what they really want in their home. Pools have all of a sudden become more important!
This is what sold us: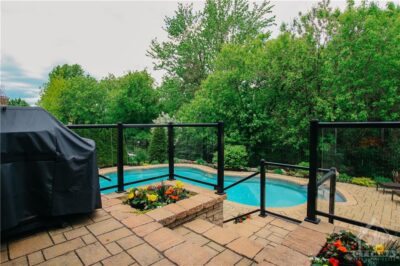 Now we just have to wait till 2021 to move in!
Buying in Hot 2020 and Selling in Uncertain 2021
The catch with our purchase is that we cannot move till next year because of the seller's plans. They are building a house and it was delayed.   It will be the longest resale closing of my real estate career! The waiting game is going to be painful. The challenging part financially is that we have purchased in a really hot market and will be selling in an uncertain 2021. I am a pragmatic person. I know next year our market will not be as good as our current market. How could it be, we are in the hottest market in a generation. I do believe next year will still be a good market. Our current supply shortage and strong demand are enough to sustain a seller's position for at least the next 6-8 months. I am betting on it with my own house. If I am wrong I have plugged in all my numbers very conservatively. Hope for the best and plan for the worst. If we end up somewhere in the middle I will be happy.
The Emotions of a Buyer
It has been a great exercise going through the buying process again. It has really reminded me of how exciting the process is for buyers and all the emotions they are going through. Anyone else have buyers remorse the day after their purchase?? I did!  Thankfully it was a very fleeting emotion.  Buying a home is stressful, exciting, and consumes much of a person's thoughts in the moments leading up to purchase and throughout the process. I totally get that and will make sure our team's services are always making the process as seamless as possible for our clients.