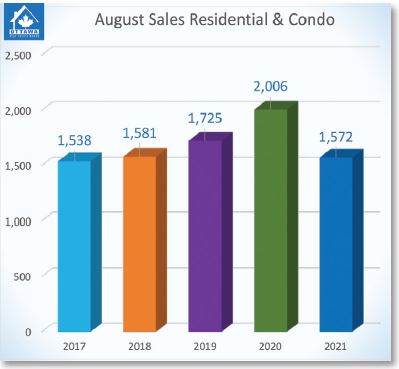 This Fall will be an interesting real estate market to monitor in Ottawa. I think it will be very active but prices will continue to stabilize. I am already feeling a shift. Showing activity is down and buyers are not quite as willing to pay a premium price on some listings. They are starting to get more patient or are just burnt out from the year that was. It is important to understand that buying a home within set criteria is no easy feat right now.
August has brought us even more stabilization to the market and offering a bit more of an increase in housing stock at 1.5 months of inventory. This is still categorized as a seller's market, as a balanced market is defined as 4-6.5 months' worth of inventory. August's inventory is approximately 5-6% higher than last year for both residential and condominium property classes.
The latest stats from the Ottawa Real Estate Board show a sharp decrease in sales compared to last year's numbers due to the first wave lockdown in Spring 2020, which shifted 2020's usual Spring market to the Summer and Fall months. However, August 2021 numbers are on par with August 2017 and 2018.
Last month there were 1,175 residential properties sold, compare that to 1,568 in August 2020, a decrease of 25%. Condominium-property class sales were 397, a decrease of 9% from August 2020. The five-year average for total unit sales in August is 1,684.
Year-to-date resales are at 14,728 and are 24% higher than this period in 2020, indicating Ottawa's market is currently in another strong year.
August's average sale price for a condominium-class property was $407,148, an increase of 6% from last year, while the average sale price for a residential-class property was $674,449, an increase of 14% from a year ago.
With year-to-date average sale prices at $722,526 for residential and $420,654 for condominiums, these values represent a 27% and 18% increase over 2020, respectively.
"Supply continues to remain scarce, and that is the driving factor behind these price increases. New listings were down 400 units from July and 500 units from last August and below the 5-year average for the first time this year since February." states Ottawa Real Estate Board President Debra Wright.
"We are pleased to see that housing affordability and the supply shortage have been a predominant part of election conversations and federal party platform pledges – which is a step in the right direction. We look forward to the collaboration between municipal, provincial, and federal governments to establish measures which will effectively address these fundamental barriers to homeownership for all Canadians who desire to own a home." Debra adds.
As always if you are interested to know more about the market, or if you would like to know what a home in your area sold for, please get in touch!