March 2020 will be a month none of us will forget. The speed at which this virus has taken over has been astonishing.  I was in the process of interviewing potential candidates to join our team early in the month. Two weeks later the majority of our clients put their real estate needs on hold. We have been working from home trying to homeschool our kids and keep some type of daily routine. It has been challenging to say the least!
The real estate market can almost be divided into the first two weeks of the month and the final two. Early in the month, the statistics reflected what was going to be another record-breaking month. The final two weeks cooled that and we barely ended up ahead of last year's sales numbers. The full impact on sales will eventually be reflected in April's numbers.
People that don't have an urgent need to buy or sell are being asked to wait till this is all over. A few of our clients have bought a new home prior to COVID-19 and are in a position where they absolutely need to sell. Others sold their home just before this hit and need a place to live. This is the main reason why our industry was deemed an essential service.
Members of the Ottawa Real Estate Board sold 1,525 residential properties in March through the Board's Multiple Listing Service® System, compared with 1,507 in March 2019, an increase of only 1.2 percent. March's sales included 1,170 in the residential-property class, up 3.3 percent from a year ago, and 355 in the condominium-property category, a decrease of 5.1 percent from March 2019. The five-year average for March unit sales is 1,465.
"Our results show that the Ottawa real estate market seems to have withstood the pressure of a worldwide economic event in March, however in context with our market's performance up to this point, we can see the underlying effect. Before the pandemic, monthly unit sales were increasing between 10-16% from 2019, while March's sales were just on par with a year ago" The board President
The slowdown included a 75% drop in showing activity in the final week of March according to Showingtime software (this is the software we use to process showing). Of course, this is not surprising because everyone is being told to stay at home. Interestingly I have seen a surge in some of our online initiatives. Including our very popular 3D tours. Here is an example of one of our listings: https://chrisscott.ca/properties/active-listings/425-barrick-hill-road/ Some buyers remain active and I am hearing of some purchasing their homes virtually from tours like this.
"Once the Ontario State of Emergency began, our Members and Brokerages rightly began to make all adjustments necessary for the health and wellbeing of our clients and customers. We welcomed the government's declaration of real estate as an essential service so that transactions in progress could be completed. However, it was not and is not business as usual for our Members. They are heeding government and public health authority warnings and advice and are being diligent in taking extra safety precautions. All this, while still doing their best to help their clients successfully conclude or close real estate transactions that were already in progress," Board President Burgoyne acknowledges.
The lasting impacts of COVID-19 are yet to be seen. Ottawa is going to be in a better position than most markets to weather the coming economic downturn. Historically we were in the hottest seller's market ever. This, of course, will change but I think because we were in such a strong market when the needle moves we will still have a fair and balanced market. We just won't see some of the ridiculous prices and bidding wars that were prevalent early in 2020.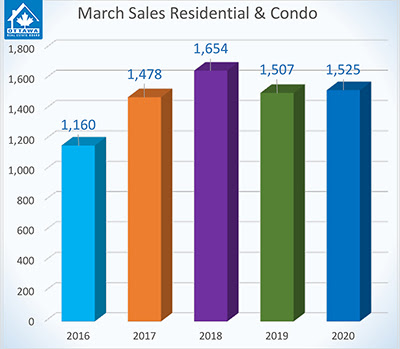 For more information on the future impacts of COVID-19 on our Ottawa real estate market: https://chrisscott.ca/2020/04/09/the-future-impacts-of-covid-19-on-the-ottawa-housing-market/