From the blog...
PRICE CHECK: COMPARING OTTAWA TO TORONTO HOME PRICES
I wanted to revisit this comparison that we did back in 2018. I thought it would be interesting for us to again compare prices in GTA vs Ottawa to see where we sit. Toronto has always been among the highest real estate prices in Canada and North America. Ottawa however is starting to close the gap. For this comparison, we wanted to find very comparable homes in each city. We dug a bit deeper and wanted to make a direct comparison with something in a similar suburban-style community in each city. The easiest way to accomplish this was to find something built by the same builder, in this case, Mattamy Homes.
I used the suburban communities of Pickering in the GTA and Stittsville in Ottawa.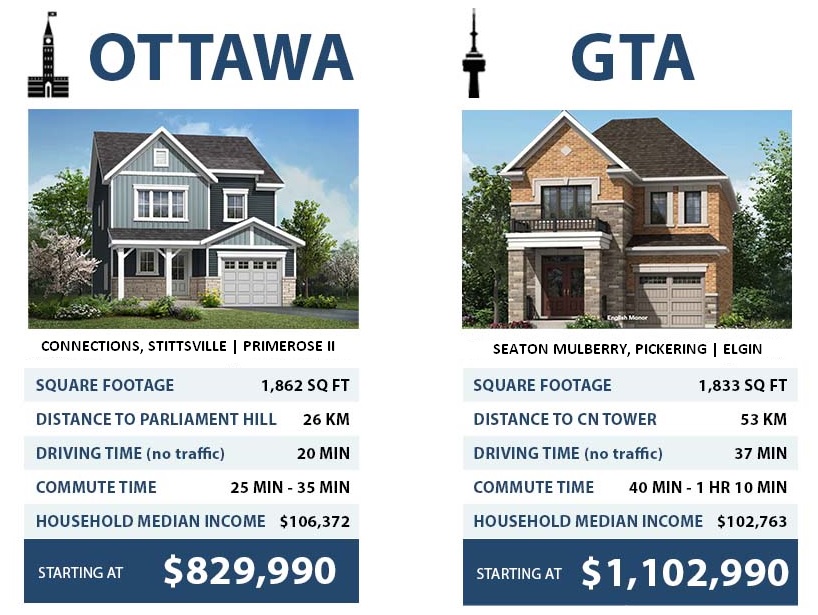 VERDICT: There is still a price gap between these properties. My prediction last time we ran these comparisons was: "I really think that if a buyer in Toronto is willing to pay those prices right now it is only a matter of time before Ottawa gets to that level. I have said it for years and I believe now people are starting to realize that Ottawa is a very undervalued real estate market."  I have to say that I think I was fairly accurate on this assessment considering our market over the past few years. There is still a gap in prices between Ottawa and Toronto. In 2018 the divide was $374,000 more for a similar GTA property. In 2022, four years later, the divide has narrowed to $273,000. We will run this in another 4 years. My estimate is that Ottawa will be even closer to Toronto in price. Always fun to compare.