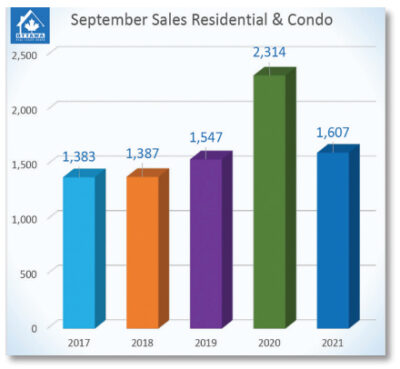 The Ottawa Real Estate Market seems to be back to a typical September market. It started off slowly due to the long weekend and back to school, but it picked up again near the end of the month.
Last month, 1,607 residential properties were sold, compared with 2,314 in September 2020, a decrease of 31%. September's sales included 1,244 in the residential-property class, down 29% from a year ago, and 363 in the condominium-property category, a decrease of 36% from September 2020. The five-year average for total unit sales in September is 1,648.
Statistics are showing a considerable year-over-year decrease in transactions, due to the lockdown in Spring of 2020, the peak of the market shifted from the Spring to the Summer and Fall months. For some perspective, the number of transactions in September was 4% higher than in 2019 (1,547) and 16% higher than 2018 (1,387).
September's average sale price for a condominium-class property was $425,362, an increase of 14% from last year, while the average sale price for a residential-class property was $702,155, an increase of 13% from a year ago. With year-to-date average sale prices at $720,492 for residential and $421,062 for condominiums, these values represent a 25% and 17% increase over 2020, respectively.
Inventory is still sitting at just over one month's supply of housing stock at this time. There were 2,252 new listings in September, an increase of 216 units over August; however, the number still falls beneath the five-year average and is much lower than this month in September 2020 (2,906). Price escalations are inevitable given the supply challenges we have been experiencing for several years now combined with the unrelenting high demand.
As always if you are interested to know more about the market, or if you would like to know what a home in your area sold for, please get in touch!