From the blog...
OTTAWA MARKET UPDATE: NOVEMBER 2021
If we compare this past November's real estate market to November 2020, we again see that it is skewed as the Spring market was pushed into Fall in 2020 due to the pandemic lockdown. In comparison, November's unit sales tracked 14% higher than 2019 (1,284), a more relevant base year. This is good to keep in mind when taking in the most recent market statistics.
1,459 residential properties were sold in November compared with 1,605 in November 2020, a decrease of 9%. November's sales included 1,086 in the residential-property class, down 10% from a year ago, and 373 in the condominium-property category, a decrease of 7% from November 2020. The five-year average for total unit sales in November is 1,348.
Average sale prices for November are for a residential-class property $716,992, an increase of 19% from a year ago, and the average sale price for a condominium-class property was $432,099, an increase of 19% from 2020. With year-to-date average sale prices at $719,956 for residential and $420,762 for condominiums, these values represent a 24% and 16% increase over 2020, respectively.
Even though there were significant increases in average prices over November 2020, month-to-month price accelerations have tapered off slightly, with average prices for residential units on par with this past October's and condo average prices increasing by 7%. For buyers, this is a much better situation than the monthly price escalations the first quarter of 2021 had shown us.
Ottawa is still sitting at one month's supply for inventory, still signaling a seller's market. Supply constraints will continue to affect prices until more inventory is made available.
As always if you have any questions or would like to know about any activity in your neighbourhood feel free to reach out.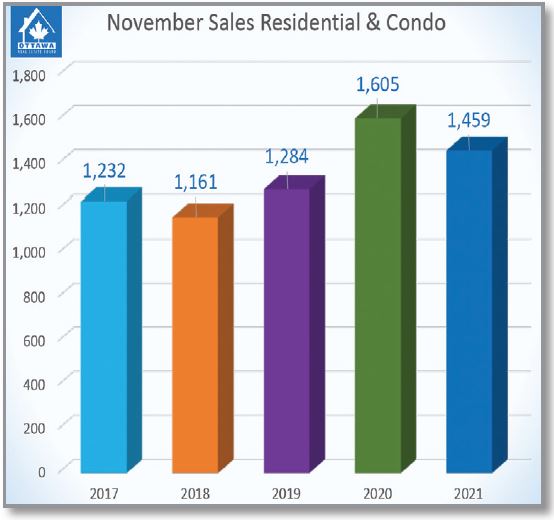 Tags: Amount, Average, Average Ottawa Home Prices, Buy, Buyer, Buying, Buying in Ottawa, Condo, Cost, Detached, House, Housing, Listings, Market, MLS, Ottawa, Ottawa Home Prices, Ottawa Housing Market, Ottawa Market Stats, Ottawa MLS Sales, Ottawa Real Estate, Ottawa Realtor, Price, Recap, Report, Review, Sell, Seller, Selling, Selling in Ottawa, Townhome, Townhouse, Units, Update