From the blog...
OTTAWA MARKET UPDATE: JUNE 2022
Market Correction or Crash?
I think everyone understands that the Ottawa real estate market is a much different landscape today than it was in February. The current prices feel similar to where they were last year without the bidding wars. A few people have asked if I think the market is going to crash or if there will be a correction. Well, the correction is already happening and I don't see it going much lower depending on interest rates. Right now I am feeling a very close connection between prices and interest rates. More so than usual. Interestingly a home in March was purchased at a much higher price but way lower rate and it is quite comparable on a monthly payment to a similar home in today's market selling at a lower price but with a much higher interest rate. Essentially affordability has not changed too much. Ottawa is weathering the drop in prices better than other market centres in Ontario. I expect the latest rate increase of 100 basis points which is the largest since 1998 to slow our market even further over the upcoming few weeks. I do think that the proposed hike in September will be lower than they have forecasted because the market has reacted and will continue to slow as a result of the Bank of Canada's decision. Again, Ottawa will not be impacted as much as other major Canadian cities.
What are the main reasons for the price drop?
No matter what you seem to be doing, everything is more expensive! Combined with the rising interest rates that were brought in to curb this and the already high real estate prices and you have a perfect storm. Buyers can not simply afford the price gains we have been seeing. With the interest rate hikes, many have been priced out of the market. Then you get a looming recession and all the doom and gloom media coverage. The Ottawa market has never changed so fast in its history. 5 months has pretty well wiped clean the previous year's gains. We also don't have the pandemic-driven demand anymore.
Buyers are taking the wait-and-see approach
Buyers are engaged in the market and are looking at homes that are priced well. If sellers are priced at yesterday's market they are not getting any activity at all. Buyers are also very much on the sidelines taking a wait-and-see approach. Many are trying to determine if they should wait a few more months as prices have been declining or lock-in on something now before interest rates move up more. Affordability could end up being the same.
What is the strategy to sell now? Hold offers?
It has been interesting talking to other agents about this and pricing strategies. For the most part pricing for multiple offers is not the desired strategy right now. Price the house well and get buyers through and sell it the traditional way. Some more patience is required as homes are staying on the market longer. With more competition, the way you present your home will be even more important as will your representation.
My thoughts on the market

My home has lost quite a bit of equity in the past 6 months. However, I have no plans to sell for 20 years so I really don't care too much. Everything will go back up again eventually. I truly believe this correction was very important to the overall health of our market.
This is exactly where Ottawa needs to be right now.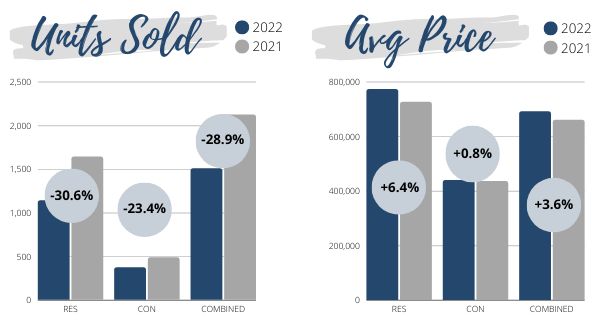 Tags: Amount, Average, Average Ottawa Home Prices, Buy, Buyer, Buying, Buying in Ottawa, Condo, Cost, Detached, House, Housing, Listings, Market, MLS, Ottawa, Ottawa Home Prices, Ottawa Housing Market, Ottawa Market Stats, Ottawa MLS Sales, Ottawa Real Estate, Ottawa Realtor, Price, Recap, Report, Review, Sell, Seller, Selling, Selling in Ottawa, Townhome, Townhouse, Units, Update