From the blog...
OTTAWA MARKET UPDATE: JULY 2022
This month's video update is a little longer than usual, and there is a great reason, we are in a complex market with a lot to discuss! 
It has been a challenging housing market in Ottawa so far this summer. In July house sales were down 35% over last year, 840 units sold vs 1,307 in 2021. That is a substantial decrease as buyers continue to be extremely cautious as they have to deal with aggressive interest rate hikes and uncertainty with current economic conditions. It is a new market right now. One that is seeing the market return to conditional offers and more restraint with buyers. A balanced market is something that we have not experienced in years in our local market. All around it is a more sustainable market and one that is fair to both buyers and sellers. With the prices retreating considerably since the late winter market some first-time buyers now have prices within their grasp. With residential prices this past July up 4.5% and condo prices up 1.4% since July 2021 it seems the huge leap in prices has stalled. We have had a few clients reach out who had things on hold and are now re-engaging as they see this as a more manageable situation.  
I do believe that with the new rates being quite a bit higher the government needs to step in and reevaluate their stress test. As buyers now have to qualify at huge rates as high as 7 or 8% to qualify for mortgages. This seems excessive. 
As new listings get absorbed at a slower pace it puts less pressure on buyers as they have more to choose from. Sellers also need to be more patient as houses are taking longer to sell. I do see things starting to stabilize just in the past week or so as buyers are engaging and showing activity has increased slightly. 
As always please reach out if you would like to know about market conditions in your neighbourhood.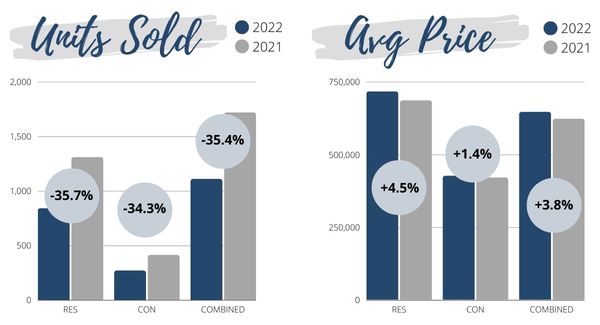 Tags: Amount, Average, Average Ottawa Home Prices, Buy, Buyer, Buying, Buying in Ottawa, Condo, Cost, Detached, House, Housing, Listings, Market, MLS, Ottawa, Ottawa Home Prices, Ottawa Housing Market, Ottawa Market Stats, Ottawa MLS Sales, Ottawa Real Estate, Ottawa Realtor, Price, Recap, Report, Review, Sell, Seller, Selling, Selling in Ottawa, Townhome, Townhouse, Units, Update