From the blog...
OTTAWA MARKET UPDATE: AUGUST 2022
Further slowdown in August
We are seeing a slowdown in the market as there are more options for buyers. With more choice and less pressure on buyer's, we have seen the return of conditions, from financing to inspection to first right of refusal. This is very much a different market then this time last year. Residential sales are down 27% from this time last year, with condo sales down 28%.
The trend seems to be looking like a buyer's market to the untrained eye, but this is coming from living through the extreme sellers markets of 2020 and 2021. With that as the recent comparison it would look like a buyer's market, but the thing is, we are still slightly in a seller's market leaning more towards a balanced market. How this is determined is by inventory. We are currently sitting at 3 months worth of inventory for a residential property, this is technically still a sellers market. It is when we see 4 months or more of housing inventory that it is a true balanced market, with 6 months or more of inventory being a true buyers market. This is a far cry from 2020 and 2021 when we were constantly sitting below 1 months worth of inventory.
Prices seem to continue to level off, with a residential freehold home averaging 5% more that August 2021 prices at $707,712. And a condo class property up 4% to $421,966.
As always, the market does differ from neighourhood to neighbourhood, please reach out if you would like to know how the market is affecting your area.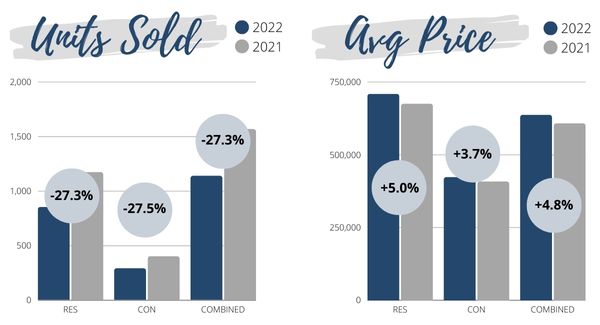 Tags: Amount, Average, Average Ottawa Home Prices, Buy, Buyer, Buying, Buying in Ottawa, Condo, Cost, Detached, House, Housing, Listings, Market, MLS, Ottawa, Ottawa Home Prices, Ottawa Housing Market, Ottawa Market Stats, Ottawa MLS Sales, Ottawa Real Estate, Ottawa Realtor, Price, Recap, Report, Review, Sell, Seller, Selling, Selling in Ottawa, Townhome, Townhouse, Units, Update