From the blog...
OTTAWA MARKET UPDATE: FEBRUARY 2023
When looking back on last year, it's important to know that February 2022 represented the absolute peak of our local real estate market. We had the perfect storm of low-interest rates, high demand and extremely low inventory which of course caused prices to spike. This year our market is in a very different situation. We are very much a balanced market that can stay there if interest rates stay the course. If they rise we will see us move toward a buyers market.
Our current market is a much more reasonable place to buy and sell real estate. From what I'm feeling on the ground is that buyers are starting not only to look at properties more but are also engaging and making offers. Just this last week I noticed a few listings that have been on the market forever finally sell. I think this is indicative of more buyers feeling comfortable that we are indeed at the bottom of this market cycle.
There were 855 residential properties were sold in February 2023 compared with 1,411 in February 2022, a decrease of 39%. February's sales included 633 in the freehold-property class, down 42% from a year ago, and 222 in the condominium-property category, a decrease of 31% from February 2022. The five-year average for total unit sales in February is 1,157.
If the Bank of Canada holds interest rates steady, buyers will have more certainty to work with as we head into the spring market.
The average sale price for a freehold-class property in February was $708,968, a decrease of 15% from 2022. However, it marks a 5% increase over January 2023. The average price increase for freeholds over January could be an indicator that buyers have normalized to the current interest rates. And perhaps, it's a glimmer of more activity to come in the months ahead."
The average sale price for a condominium-class property was $410,927, decreasing 12% from a year ago.
With year-to-date average sale prices at $695,086 for freeholds and $411,449 for condos, these values represent a 14% decrease over 2022 for freehold-class properties and a 10% decrease for condominium-class properties.
Months of Inventory for the freehold-class properties has increased to 2.8 months from 0.7 months in February 2022.
Months of Inventory for condominium-class properties has increased to 2.5 months from 0.7 months in February 2022.
February's new listings (1,366) were 22% lower than February 2022 (1,762) and up 3% from January 2023 (1,323). The 5-year average for new listings in February is 1,632.
Days on market (DOM) for freeholds decreased from 43 to 37 days and 47 to 43 days for condos compared to last month.
Every neighbourhood in Ottawa is different and will have trends that are unique to your area. If you want to know what your home is worth please feel free to get in touch with our team. We are always happy to help.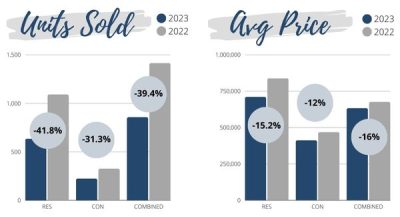 Tags: Amount, Average, Average Ottawa Home Prices, Buy, Buyer, Buying, Buying in Ottawa, Condo, Cost, Detached, House, Housing, Listings, Market, MLS, Ottawa, Ottawa Home Prices, Ottawa Housing Market, Ottawa Market Stats, Ottawa MLS Sales, Ottawa Real Estate, Ottawa Realtor, Price, Recap, Report, Review, Sell, Seller, Selling, Selling in Ottawa, Townhome, Townhouse, Units, Update