From the blog...
STITTSVILLE SUBURBAN STATISTICS UPDATE MARCH 2023
The Stittsville real estate market has had an incredible roller coaster ride of prices since the pandemic began in 2020. With prices peaking in early 2022. Since that time Bank of Canada's measures to fight inflation through interest rate hikes has had a significant impact on house prices in our community. For this report, we are comparing prices from the first quarter of this year against the first quarter of last. Here are the results of this comparison. 
What jumps out to me is that both detached 2-car garage homes and row units declined the most in value. Stittsville remains more expensive than all the other major suburbs in Ottawa. It is continually on the list of my relocating clients. 
I predict that the market will get better as I'm already seeing lower inventory and the return of multiple offers in some cases. Buyers who are well qualified, but maybe have been on the sidelines since the declines have re-entered the market as they may feel like house prices have bottomed out. The challenge these buyers are facing is that inventory levels are still low by historical standards. Not quite where they were last year, of course, but much lower than anyone is talking about. The wildcard is if the Bank of Canada keeps their current rate steady and we can see some stabilization back in the market. I have actually heard rumours that some banks may even reduce their current rates in the weeks ahead. If that happens we will have a busy Spring and Summer market. 
It is very important for sellers to create an experience for their prospective buyers to get the most amount of money possible. What that looks like to me is having the house staged, marketed properly, and easy to buy. Our team specializes in selling in the Stittsville area and can make sure you get the absolute most money you can for your home in the least amount of time. If you are curious as to what your home is worth please feel free to reach out.
Here is the most recent installment of our new monthly value-added feature, the Suburban Statistics Series.  We are bringing you specific real estate market statistics for Stittsville. The market is different depending on what area of Ottawa you look at. This gives you a specific snapshot of the first-quarter statistics for 2023 in Stittsville.
All of these statistics are based on MLS OREB sales from January 1, 2022, to March 30, 2022, over January 1, 2023, to March 30, 2023.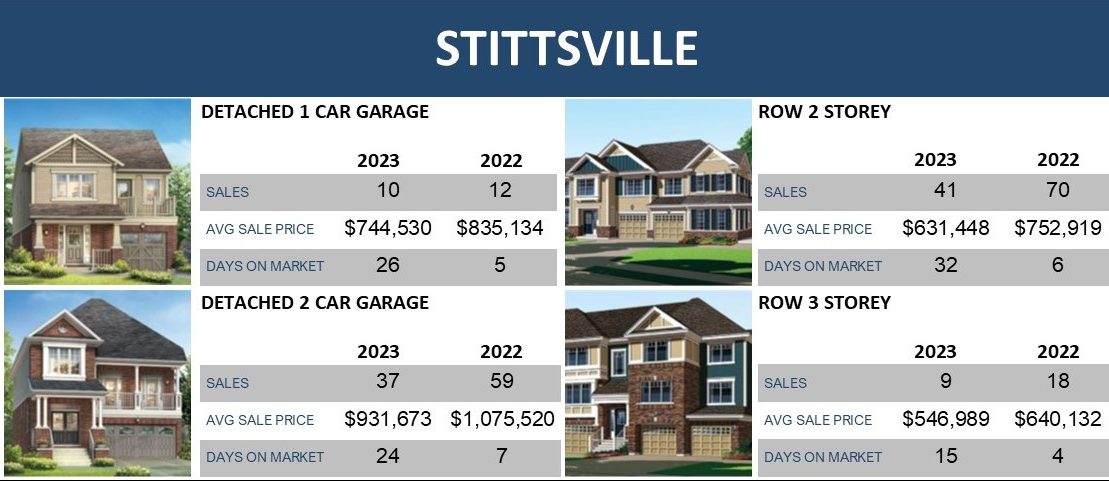 Tags: Amount, Average, Average Ottawa Home Prices, Buy, Buyer, Buying in Ottawa, Condo, Cost, Detached, House, Housing, Listings, Market, MLS, Ottawa, Ottawa Home Prices, Ottawa Housing Market, Ottawa Market Stats, Ottawa MLS Sales, Ottawa Real Estate, Ottawa Realtor, Price, Report, Review, Sell, Seller, Selling, Selling in Ottawa, Statistics, Townhome, Townhouse, Units, Update