From the blog...
OTTAWA MARKET UPDATE: JULY 2023
The real estate market is currently undergoing some fascinating changes. With two recent quarter-point interest rate hikes by the Bank of Canada, buyers are understandably feeling the pinch as prices rise. Interestingly the statistics reveal a more complex picture; sales are still strong, even outpacing the previous year and we are returning to a more balanced market.
Year-to-date, average prices for freehold properties are down by nine percent compared to last year. Yet, when we examine month-to-month data, we find that average purchase prices are increasing along with sales numbers. This year's trajectory is mirroring the past, with a slow winter, active spring and summer, and now a more balanced market, depending on your location.
For prospective buyers, it's important to resist short-term speculation. This market favors those who believe in the long-term potential of real estate, considering its historical performance and outlook. Additionally, there's an interesting opportunity in multi-residential properties, which have seen prices drop due to rising interest rates. Investors have cooled on these properties, making it a potentially favorable time to invest.
As always if you're curious about your specific neighborhood, don't hesitate to contact us. We are always happy to help! Wishing everyone well, and take care!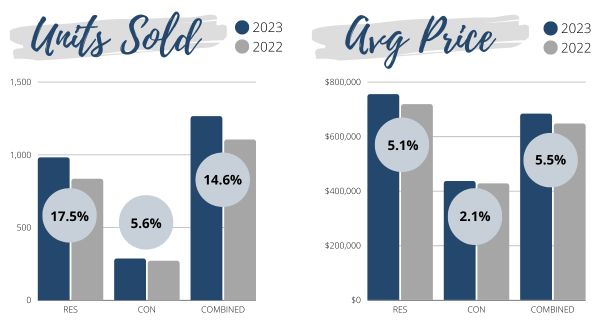 Tags: Amount, Average, Average Ottawa Home Prices, Buy, Buyer, Buying, Buying in Ottawa, Condo, Cost, Detached, House, Housing, Listings, Market, MLS, Ottawa, Ottawa Home Prices, Ottawa Housing Market, Ottawa Market Stats, Ottawa MLS Sales, Ottawa Real Estate, Ottawa Realtor, Price, Recap, Report, Review, Sell, Seller, Selling, Selling in Ottawa, Townhome, Townhouse, Units, Update