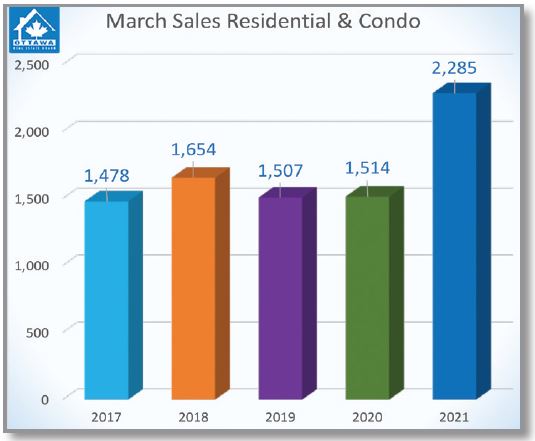 It has been so interesting observing market trends over the past few weeks. There are some homes going way more than what they should be selling for while other ones are not getting offers on their pre-arrange offer date. I think many sellers are starting to list at the higher end of the market but that is not necessarily the right strategy. Buyers are conditioned to pay much more than asking and if they see a price at the high end of the market they assume they would have to pay way more to secure it. Often times those houses end up selling for less than they should be. The showing experience is also becoming more and more important. The well staged and presented homes are the ones going for the crazy prices. These are the ones that are capturing buyers hearts and getting them emotionally committed to the houses and subsequent bids.
We have had 47 per cent more residential sales this March versus this time last year and the average price for a residential property has skyrocketed up to $758,802, a 35 per cent increase from March 2020. This trend is also continuing with condos, seeing an increase of 65 per cent in sales and average sale prices up 18 per cent at $437,041 compared to this time last year.
The pandemic has brought us a once in a lifetime type of real estate market. The challenge I see moving forward is the supply issue could be here with us for the foreseeable future. Our city is growing and everyone wants to have home ownership. Why would you not when you see the type of equity homeowners are building. I do think things will get a bit easier in the next few months for buyers. In the past week I have seen more townhomes come to market than at any other time in the last year. I think townhome owners are seeing the relatively small gap between what their houses would sell for and getting into a larger single home.
As always feel free to reach out to me, or any member of our team if you would like to know what your home is worth or if you are interested in recent neighbourhood activity.
Stay safe and take care!