OTTAWA REAL ESTATE REPORT
RECAP OF 2020: A Year We Will Never Forget
It was a record-breaking year of growth and price appreciation in Ottawa. Coming into 2020 our supply levels were at all time lows and demand was strong. When the COVID hit supply also dropped. The demand did not. Buyers were still very much interested in purchasing. Having a stable economy in Ottawa helped matters. The pandemic even brought other people who were not thinking about buying into the fold. Privacy and pools became high priorities for some buyers.
The end result was freehold prices up 20%! The average sale price was $582,267 in this category. Who would have thought that we would have record price appreciation in the midst of a pandemic. In the condo market prices soared over 19%! It would have been hard to predict these numbers before the start of the year. Even with the lack of inventory the number of units sold were way up too.
This thriving market is due to inventory shortage, multiple offer situations, record-low mortgage rates and buyers from larger markets. Ottawa is a resilient and sheltered market in comparison to others. Ottawa has secure government and tech sector employment that allowed many to work from home. 2021 will see a continuation of Ottawa's solid resale market, real estate professionals were deemed essential workers and the market was only slightly shaken by the world-wide pandemic. This market is very active, insulated, and strong.

Average sales prices are for 2020 based on MLS sales.
Combined is for all property classes. Arrows are gains from 2019.
OTTAWA REAL ESTATE REPORT
FORECAST 2021 
We are entering the year in the midst of rising COVID cases and economic uncertainty. Not to mention some political unrest with our neighbours to the South. This is a unique place to begin. From a real estate market perspective, I look at the supply and demand metrics to determine where things may be going. We enter this year with very few homes for sale, the sales being recorded so far are noticeably higher than last year. Our supply is exceptionally low and demand still quite high. This will once again make Ottawa a very competitive market for 2021.
Ottawa is a growing city, and I am not sure there is a long-term solution to this price acceleration. Rising prices may be a common theme for the foreseeable future. The biggest change I see in the years to come is in the luxury market. There are many more 1M plus buyers out there now.
Half a million can barely afford you a townhouse now in suburbia. It is kind of surreal thinking about my average sale price in my first year in real estate. It was around $220,000.
I do predict that freehold prices will continue to appreciate at a higher level than condos. Many major projects in Ottawa are in the building stages with dozens more approved. At some point we will have enough condos to satisfy demand. That will come sooner than on the freehold side. Some condo owners have felt a bit trapped with COVID and working from home. I have had a few reach out to change into a freehold and have a bit more space to spread out.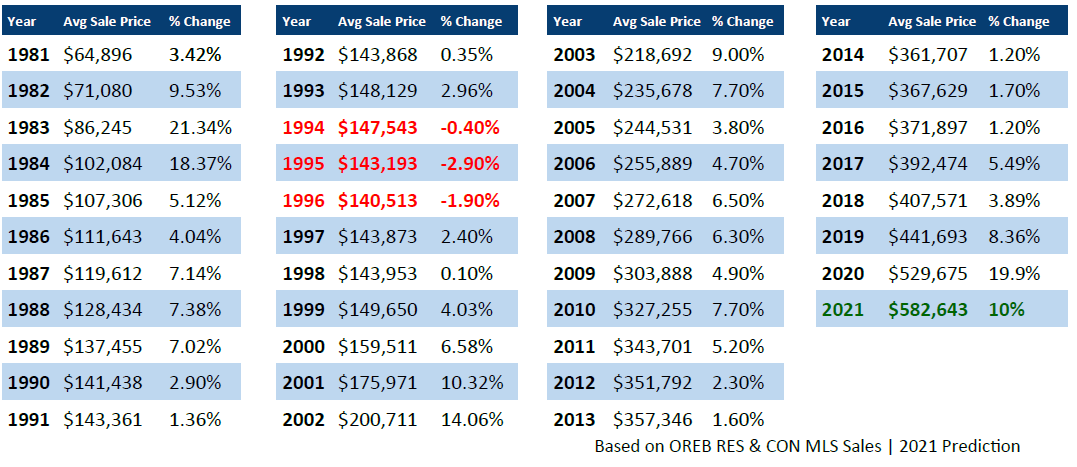 OTTAWA REAL ESTATE REPORT
KEY INDICATORS
| | |
| --- | --- |
| WORKING FROM HOME: THE NEW NORMAL | Ottawa's solid public sector is a great foundational piece to our economy. This represents 20% of the workforce in Ottawa. These jobs are high earnings and are very secure. Ottawa is in a unique position to have so many jobs that can be done remotely. The high-tech sector in Ottawa has been booming, tech-giant Shopify has made working from home permanent for their employees. This has kept our local economy sheltered from what is happening elsewhere. It may also have an impact on where people decide to live. With many working from home permanently extra space is becoming more desirable. |
| SUPPLY TRENDS LOWER FOR FREEHOLDS & CONDO | This graph illustrates the supply available in the Ottawa real estate market. It is so interesting to see where we are from an inventory perspective when compared to the last 15 years. Supply remained low for 2020, and we are starting out 2021 with very little inventory.  This is the heartbeat of the market. As we witnessed in 2020 with inventory this low, prices were pushed way up as buyer competed for homes. Early 2021 seems to be trending in that direction as well. Will be an interesting year! |
| INCREASED USE OF TECHNOLOGY | I think that the way people buy and sell real estate will forever be impacted by COVID. This year has proven that we can do so much virtually. Our team has sold 10 homes to buyers from out of town (mostly military) who never actually stepped foot in the house they purchased until closing day. We would virtually walk them through the house and usually have a 3D tour to share with them. I am not suggesting everyone would have a comfort level with that. However, if you could have me walk you through a house while you are in the comfort of your own home, would that be beneficial? Some buyers are opting for this for the first visit and then coming through if they like what they saw on the virtual visit. |
If you are curious about your home's worth please fill in this form for a no-obligation market assessment.