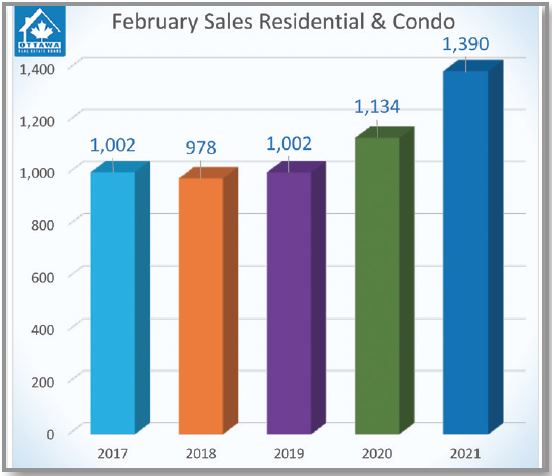 The market has continued its red hot pace and is favored towards the seller. This seems to be how I am starting these write-ups over the past 13 months! Hard to believe considering we are one year into a pandemic. We have less than one months inventory available to buyers out there. To put it in perspective it is like going to the grocery store a year ago and seeing toilet paper being put on the shelves. How long did that last? If stores were setup for bidding wars I am sure they would sell those rolls for more. Not comparing toilet paper to housing, well kinda. The principals are the same. As a shopper I was legit frustrated last year because of the scarcity of the inventory.  My buyers out there are feeling the same. A few have decided to rent! Eventually things will get back to a more normal market. I predict that to start taking shape by summer. It will be favored to the sellers but prices will plateau. Interest rates may see a slight uptick and that should help cool this market a bit. It will still be hot for the rest of the year but not less than one months inventory hot.
The average sale price of a residential property up 27.2 per cent to $717,914 and the average sale price of a condo up 16.6 per cent to $407,971, compared to February 2020. These numbers are unheard of over the past 50 years. The competition for properties remains fierce!
February's sales included 1,028 in the residential-property class, up 24 per cent from a year ago, and 362 in the condominium-property category, an increase of 19 per cent from February 2020. The five-year average for total unit sales in February is 1,101.
Residential homes are experiencing the quickest turnarounds noticeable in the sharp decline of Days on Market (DOM) from 30 days in February 2020 to 14 days last month. Houses are getting snapped up quickly.
If you ever want to know what your home could sell for, or what the property down the street just sold for, please feel free to reach out to our team.