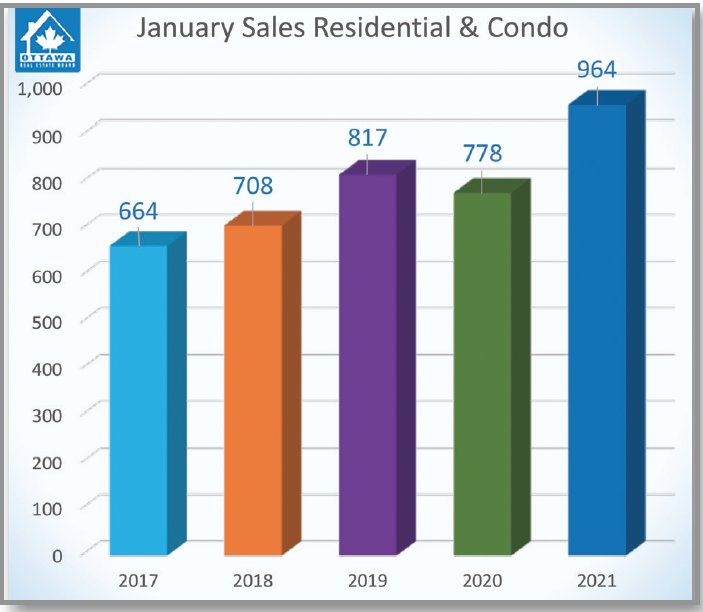 Even in the midst of a stay-at-home order and a continuation of December's lockdown, members of the Ottawa Real Estate Board sold 964 residential properties in January through the Board's MLS System, compared with 778 in January 2020, an increase of 24 per cent. January's sales included 674 in the residential-property class, up 21 percent from a year ago, and 290 in the condominium-property category, an increase of 31 per cent from January 2020. The five-year average for total unit sales in January is 786.
Sellers were waiting until after the holidays to list their properties, causing listing activity to be up at the beginning of the month. This gave way to a restricted supply once the stay-at-home order came into effect mid-month. This of course has put strain on buyers. There is so much pent-up demand.
Inventory is up from December, it is still down substantially from last year at this time with 43% fewer properties on the market. This inventory shortage coupled with strong demand triggered a brisk pace to the market. We would have certainly seen higher sales numbers if there were more properties available because the demand is definitely there.
January's average sale price for a condominium-class property was $380,336, an increase of 13 per cent from last year, while the average sale price of a residential-class property was $677,197, an increase of 31 per cent from a year ago. Compared to December, the average price for residential-class properties has increased by 12 per cent, and the average price for condominium-class units is 7 per cent higher.
If you are curious to know what's happening in your Ottawa neighborhood let us know. We are always happy to help.